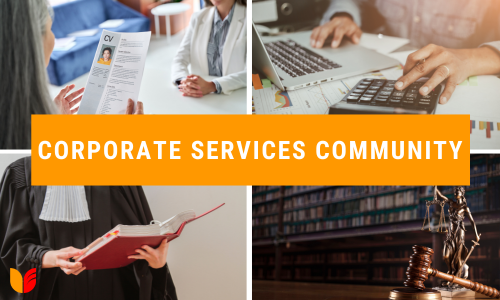 Corporate services such as finance, legal, tax and human resources are the backbone of today's global economy. Both multinational corporations and start-ups cannot operate without sustainable finances, clear legal and tax advice, and a capable and motivated workforce. Singapore has an excellent corporate services sector, due to her efficient and transparent policies and regulations.
The Corporate Services Community aims to engage members of the Dutch Chamber in Singapore with the latest and most topical developments in the fields of finance, legal, tax and human resources. The scope of the Corporate Services Community is very broad, and topics discussed range from cross-border payments, economic outlooks, and government budgets to the introduction of new securities laws, changes to income tax regimes and talent acquisition strategies.
Together with experts from the finance, legal, tax and human resources industry, the Corporate Services Community will organize presentations, round tables, and networking events to keep members informed and connected. We hope to see you soon at one of our events!
Committee Members
Events by the Corporate Services Committee
Contact
EMAIL
info@dutchcham.sg
CONTACT FORM
Other DutchCham Committees